FALL 1997 -- IN THIS ISSUE:
This page (September Edition) was created by Cyberstars.com in November 1997.
The paper edition was mailed to BPA members in September 1997.
COMMUNITY UPDATE
-- Will Beckett, President
STORM DRAIN CONSTRUCTION SLATED
-- by Joe Teresi, Senior Engineer, City of Palo Alto Public Works
EMERGENCY PREPAREDNESS
by Art Bayce, Chair
COMMUNITY SAFETY
by Art Bayce, Chair
BEAUTIFICATION COMMITTEE REPORT
by Erna Glanville, Chair
BOL PARK REVEGETATION PROJECT
A Report from the Natural Habitat Committee
DONKEY BUSINESS
by Inge Harding-Barlow
BATS
by Doug Moran
ZONING & LAND USE REPORT
by Bob Moss
CREEKS
by Bob Moss
BARRON PARK HISTORY NOTES
by Doug Graham, Barron Park Historian
BE CAREFUL!
LEAF BLOWERS
by Will Beckett
LETTERS TO THE EDITOR
MEMBERSHIP DATABASE HELP!!
by Nancy Hamilton
PLUS OTHER GOODIES THAT ONLY APPEAR IN THE PAPER EDITION!!
(only BPA members receive all four quarterly paper newsletters)
The winter edition is mailed to all Barron Park residents.

If you wish to become a Barron Park Association Member, email the Membership Chair and I'll fax you a form or,

Go to on-line membership form.
Community Update
by Will Beckett, President
The summer seems to have gone by too quickly. School has started and we need to focus again on the children that crowd our streets in the morning. Enrollment is way up and already I am hearing of traffic problems at the two high schools. When I was a student at Paly I don't recall seeing that many cars --however my father says that when he attended Paly, more than half of the seniors drove because there were so many Model Ts around, and it was the "in" thing to do. Hopefully this is only a trend and students will recognize how much easier it is to ride a bike or walk. If you have a child in school please encourage him/her to bike or walk, preferably in groups, to improve the safety factor.
It has been a difficult year for all of us. It seems as though we are all much busier than last year. Board members have many obligations besides the BPA, but do as much as they can to serve the neighborhood. We need your help. A special thanks to Inge Harding-Barlow, Doug Moran, and Bob Moss for the many hours they have put in above and beyond the call of duty.
Doug Graham will be in Pennsylvania for a few years, leaving our Board with fewer members than we have ever had in the last six years. We know there are some in our community who have an interest in becoming Board members and we will be actively pursing them this fall. If you have an interest in helping out, there are a wide variety of tasks that need to be done. Join one of our committees as a first step. If you're not sure which committee, please contact us so we can help you find the right one. If you have signed up in the past and have not been called, please call again so we can get you involved. Please contact any Board member or e-mail us (addresses on pg. 9) and we can go into more detail.
"Friends" is now looking for a home in College Terrace. Many in our community have expressed an interest in adding some public art to one or both of our parks. The Art Commission has contacted the Barron Park Association Board and we will look into this and see if there might be a match. We hope to find a piece that will fit well with our personality and the theme of our parks. If you would like to be involved in this effort please contact us.
Many of you already know that the storm sewer project scheduled to be well underway prior to school starting has been delayed. It now appears that much of the major work will start at the end of September. At the same time the construction on the new apartments on the old Rudolfo's site will begin and soon construction will start to improve the Los Robles and Maybell intersections at El Camino Real. I predict that all the projects will get underway shortly prior to the El Niño rains, leaving open trenches and flashing A-frames up most of the winter.
A final note about the media. As many of you know, newspaper articles, even when accurate, don't always tell the whole story. Reporters have also been known to misquote --the Palo Alto Daily News recently misquoted both Bob Moss and myself. I have many volunteer activities that I perform besides President of the BPA, and these are sometimes reported with the BPA title. We have no control of this but it should be made clear that if it is the position of the Board of the BPA, it will be stated as such. Please contact me if you have any questions about comments made by me in articles you have read, where you have questions.
Will Beckett 494-6922.
by Joe Teresi, Senior Engineer, City of Palo Alto Public Works
[Editors note: merging of an article from Teresi and a follow-up note.]
It looks like construction on Barron Park's new and improved storm drainage systems will soon be underway. City of Palo Alto Senior Engineer Joe Teresi is determined that the work will go smoothly, and that potential noise, traffic, and safety impacts will be effectively mitigated. "It's our goal to minimize any disturbance to the neighborhood, and to ensure the safety of all of the residents, particularly school children," he explains. "In the end I hope that all of the residents will feel good not only about the new storm drain infrastructure but the process of putting it in."
Staff originally planned to have this construction completed before the beginning of school, but due to underground utility conflicts and other design challenges, the project has been delayed. The bids were opened September 3, and a construction contract will be submitted to City Council for award on September 22. Work should start in early October and continue for approximately 6 months.
After the contract is awarded, Teresi says, "We'll schedule another neighborhood meeting where residents can meet the contractor, express their concerns about potential construction impacts, and ask questions." During the construction phase, City representatives, the contractor, and a representative of the Barron Park Association will meet monthly to discuss the project's progress and neighborhood concerns as they arise.
City staff has worked with the School District, school principals, and PTA representatives to develop a traffic control plan that will minimize the impacts to school traffic on Orme and other neighborhood streets. An informational flyer about the project went out to all school families with the local schools' back-to-school packets. The following conditions have been incorporated into the project specifications:
No work prior to 8:30 am (to avoid morning school commute)
Coned-off area for pedestrians/ bicyclists along Orme Street
No construction traffic allowed through school property (driveway)
Two-way traffic maintained on Orme Street at all times (using flagger)
At the public meeting last February, residents asked what sort of measures the City was taking to protect the creeks from pollution in stormwater runoff. Teresi notes that the Public Works Department has decided to take this opportunity to try out a couple of new types of stormwater filtration devices, which should improve the quality of runoff that reaches the creeks. The Barron Park project is the first time that these devices have been installed in the public right-of-way in Palo Alto. The projects include:
A new storm drain trunk pipeline to be constructed along Orme Street between Juana Briones School and Los Robles Avenue. This new segment of storm drainage infrastructure will join Barron Creek at Orme and Los Robles. Along Orme Street, special catch basin inserts called "fossil filters" will be installed to filter silt, hydrocarbons, and other debris out of runoff during low flows. These filters will not block the catch basins during larger storms. Change from plan of February 1996: The storm drain through the school property and along Coulombe Drive has been omitted due to utility and tree conflicts.
A second new pipeline will wind down La Donna Street, Kendall Avenue, and Whitsell Street. On La Donna the plan is to install larger devices called "Stormceptors," where solids will settle out and "floatables" will be trapped. The outfall into Matadero Creek will be located at Whitsell and Matadero Avenue.
The work will also include new catch basins and valley gutters to collect runoff. In addition, the contractor will be working at several other locations to repair damaged pipelines, manholes, and catch basins, and to correct chronic ponding problems.
City staff will strive to complete this project with a minimal amount of disruption to the neighborhood. Due to the nature of construction, there will undoubtedly be some impacts, however, and I ask for your cooperation and understanding. If you have any questions or need further information, please contact Matt Costigan at 329-2469 or e-mail him at: (deleted)

by Art Bayce, Chair
We have received a total of 112 responses to the Emergency Preparedness Survey. This number is out of approximately 1500 households on our mailing list for Barron Park. Thank you to all of you who have responded! Hopefully, we will never have to ask for your help.
The responding households have been broken down into three main categories: Medical Personnel, Helpers and First Aid Trained (32); First Aid Supplies, Medical Equipment, Water and Blankets (73); and General Equipment including Tools, Communication and Fire Extinguishers (87). As can be seen, many households responded to more than one category. If you have not yet completed and returned the survey, you can find it on the Web at http://www.bpaonline.org/emergency
If you'd like a form faxed to you, fax 494-0741, or, call Art Bayce 493-7058 to receive an emergency form by mail.
During an emergency, contact your nearest BPA Board member for information. The emergency database is confidential and will be accessible only during emergencies.

By Art Bayce, Chair
Crime Report
Some burglaries and thefts have occurred in Barron Park. The main items of interest seem to be cellular phones in cars and bicycles (often from open garages). There has been an increase in vandalism to vehicles this summer. Although this is occurring throughout Palo Alto, Barron Park seems to have more than its share. Windows have been smashed and cars have had materials smeared on their exteriors (watermelons, etc.). Residents can help by calling 911 immediately while the vandalism is in progress.
Neighborhood Watch
Citywide Neighborhood Watch is now a part of the Community Police Division, under Lieutenant Robert Brennan, of the Palo Alto Police Department. At Block Captain meetings at City Hall, the re-organization plan for Neighborhood Watch was presented by Lieutenant Robert Brennan, Agent Dennis Tealer and Susan Jones. There will be more responsibility for the Block and Area Captains. Presentations and orientations will no longer be done by the city but by the neighborhoods. In October, there will be training sessions by the city to help neighborhoods organize the revised program. When more information becomes available, it will be presented in this Newsletter and by the Block Captains.
Traffic
An increasing number of tickets are being given for traffic violations in Barron Park. Again, speeding and running of stop signs head the list, followed by running of red lights on El Camino. School sessions have begun, so care must be taken for walkers and bicyclists.

To report crimes in progress --immediately call 911. Past or suspicious events --24-hour police business number, 329-2413. Graffiti --City of Palo Alto hot line, 496-5904. For information on the Palo Alto Citizens Police Academy --329-2665.

By Erna Glanville, Committee Chair
How did you like the strange weather this summer? Lots of wind, not too many warm days. Now, we should be enjoying the fall "Indian Summer" September through October, if El Niño doesn't get to us first.
Another reminder about Canopy, the non-profit organization involved in the planting, preservation and maintenance of the street trees in Palo Alto. If you have a street tree you would like Canopy to remove, or to join this organization please call Debbie Mytels at (650) 964-6110. They plant new trees between October and March only, but tree removal goes on year 'round.
Coming up --replanting for the bike path/Bol Park areas, necessitated by the storm drain construction. Volunteers needed for planting times in October/November. Please see Habitat Committee article on page 4.
Hope you all had a pleasant, relaxing summer, because now it is time to get back to work on your fall planting, for a glorious show of color in the spring and next summer gardens. Have fun!
Erna Glanville

A Report from the Natural Habitat Committee
Three years ago, the BPA Parks Committee set up a sub-committee to work with the SCVWD and the City of Palo Alto on all phases of the Bol Park revegetation with native plants. Because of large community interest and the complexity and size of the project, the BPA Board of Directors voted to transform the sub-committee into the Habitat Committee, with the unprecedented number of three co-chairs.
The initial project of the Habitat Committee is to develop an ecologically sound, tiered-life-cycle of native trees, shrubs, perennials, annuals, bulbs and bunch grasses to support our diverse fauna. It should be noted that the Bol Park Bike Path also forms a much needed greenbelt corridor, intermediate between the Baylands and the Foothills. We will be working to create a year-round beautiful environment for the daily users of our park (walkers, joggers, bikers, lunchers from SRP and VA, etc.) and we will provide a learning experience for those interested in our native habitat by continuing to label, whenever feasible, all flora with both Latin and English names.
By the careful use of native plants, we hope eventually to obviate the yearly fire danger, which currently necessitates costly city expenditures. It is extremely unfortunate that the Santa Clara Valley Water District contractor used an inappropriate seed mix when hydroseeding for erosion control, leading to many tall non-native allergy-producing weeds and grasses, which had to be cut down in early May and again require attention in September.
We can crowd out a certain number of these non-native weeds with appropriate low-growing bunch grasses and annuals and perennials. However, for the next three years we will need to hold MANY weeding parties! Please get some of your daily or weekly exercise by pulling weeds! There are plenty of weeds to go around and we thank ALL public spirited weeders in advance!
The lawn facing Laguna was planted by the SCVWD contractor according to the City Council approved plan. The grading is still incorrect, leading to a mosquito inducing morass. Adjustments on the irrigation-heads also are still incomplete. Of the 14 species of trees and shrubs planted by the SCVWD contractor, three key species have suffered nearly total mortality, through incorrect care. Of the 33 trees and shrubs the BPA planted in March and kept hand watered, once a week, throughout the summer, most are doing well, one died and several are slowly recovering from vandalism.
The BPA will be planting about 200 native trees, shrubs and perennials, as well as about 200 bulbs this Fall. The actual layout will be discussed at a meeting to be held by the Habitat Committee at Creekside Inn 7:30-9:00 p.m., Thursday, October 16th 1997. ALL ARE WELCOME!
We will be holding two day-long planting parties to install the plants on Sunday, October 26th, 9 a.m.-3 p.m. and Saturday, November 18th, 9 a.m. to 3 p.m. We really would deeply appreciate your help. Please come and help our park. (Barron Park residents purchased Bol Park from the Bol Estate before BP became part of Palo Alto).
The Habitat Committee is also investigating the appropriateness of formalizing arrangements of "Adopt-a-Park" and "Adopt-a-Creek," which have been in informal existence since the formation of Bol Park. This would involve picking up litter, cleaning up graffiti, calling the Police, Parks and Utilities when required, and being active in plant care and revegetation when needed.
For more information call Doug Moran 856-3302; Jill Beckett 494-6922, or Inge Harding-Barlow 493-8146.
---------
Note: There are several individuals who are opposing the Revegetation efforts. Their opposition appears to be based upon a desire to have more lawn in the area between Matadero and Laguna Court and the mistaken belief that the BPA revegetation effort is responsible for reducing the size of the lawn. Despite multiple meetings with the BPA, City staff, and SCVWD, they appear unwilling to believe that the size of the lawn is determined by the permanent irrigation system and that the size of the lawn and location of the irrigation system is part of the SCVWD plan that was approved by the City Council. Their tactic has been to submit letters and petitions (in various guises) to the City and SCVWD and thus spawn a series of meetings that divert resources from efforts to get action on the real problems with the SCVWD's contractor's work. It is hard to determine what these individuals hope to achieve because not only have they not made constructive proposals, they have stuck to positions even after they were shown that those positions were flawed (for example, having contradictory goals).

by Inge Harding-Barlow

Donkey handlers: From top left, Ted Thomas, Pat Rogow, Edith Smith, Leland Smith, bottom left, Doug Moran and Inge Harding-Barlow. Not shown: Steve Luce
Perry, our miniature donkey, has become a STAR in his own right! He has a personal trainer, Jim Bronson, to take him running several times a week. On Sunday, between 10-11 a.m. he makes a stately tour of Bol Park, greeting his favorite doggy pals with face licks and requesting petting from his two-legged admirers. He greatly enjoys posing for photosessions. Please come and visit Perry on Sunday mornings in Bol Park (weather permitting).
MICKEY TURNS 30
On Sunday, June 29th, Mickey had a party at his pasture to celebrate his 30th birthday, which was on Tues., July 1st. A wonderful time was had by all. Thank you to all who brought gifts!!
Since May, Mickey's farrier and vet had been slowly working on his right front hoof to remove a series of pus foci. Hopefully the last one has finally been cleared up and Mickey will have a normal-looking hoof and will be walking easily for a long time.
Mickey enjoys being groomed and petted by his admirers of all ages between 9:30-10:30 a.m. every Sunday, weather permitting.
REPORT ON THE MICKEY (and PERRY) FUND
| | |
| --- | --- |
| Total donations | $2,900.00 |
| Capital Expenses for Storage and Watering System | $348.00 |
| Farrier, Vet and Medicine Bills | $1,780.00 |
| Food Bills & Bedding | $346.00 |
| Total spent | $2,474.00 |
Many many thanks to all of the donors!
MICKEY AND PERRY NEED YOUR HELP!
The donkeys desperately need your monetary aid! Due to Mickey's vet bills, your many generous donations have vanished much too fast. The names of all donors giving gifts between September 25th and November 25th will go into a hat and three names will be drawn. The first prize will be a pair of slippers made from Mickey and Perry's hair, already collected during grooming. The second and third prizes will also be valuable donkey mementos!
If anyone would like to put together cards and/or calendars that we can sell, please contact Inge Harding-Barlow, 493-8146.
Inge has started to write a book about the donkeys, which Edith Smith hopes to illustrate. However, it will be at least summer 1998 before it would be ready for publication.
The annual meeting on Mickey and Perry will be held at 7:30 p.m. Thursday, November 20th at the home of Edith and Leland Smith. RSVP to Inge at 493-8146.
Tax deductible donations may be made out to the:
BPA Foundation --Mickey's Fund
and mailed to:
Mickey's Fund
701 Kendall Avenue
Palo Alto, CA 94306
-- Many thanks to all of you who've contributed!
See the Donkey's page

by Doug Moran
The Natural Habitat Committee is beginning consideration of placing bat houses along or near the creeks. People interested in this activity, or having comments or suggestions, should contact Doug Moran, 856-3302. There is a small population of bats already along the creeks and we are interested in building the populations back up to earlier levels because bats are voracious predators of night-flying insects (for example, mosquitoes), and they have little negative impact on people, far less that some of our other urban wildlife (roof rats, raccoons, skunks).

by Bob Moss
This has been a busy year for redevelopment and new businesses along El Camino. This summer there have been a number of developments and improvements. A Hollywood Video opened at 3901 El Camino, the former site of La Cumbre. The Sizzler restaurant which closed late last year when the chain had financial problems was replaced by a new Boston Market restaurant. Final approval was given for a four-building, 46-unit rental development to replace Rudolfo's and the veterinarian building at El Camino & Los Robles. Demolition of the old eyesore is complete, and construction should begin this month. A 12-unit townhouse development is planned to replace seven of the eight small houses on Goebel Lane, off Vista. The eighth house, at Goebel & Vista, is under separate ownership and will remain. Construction is planned for early 1998.
There has been interest expressed in replacing the Cameo Club with 17 to 24 condos, but there has been no serious activity for the past several months. Chevron obtained approval for a gas station and car wash to replace the former Co-opt gas station at El Camino and Ventura, but there is no indication when construction will begin.
The old Thain house in the 4200 block of El Camino (behind Palo Alto's last billboard) was torn down last month. It had become a refuge for homeless people and drifters, and was both an eyesore and a nuisance. The plan to build nine townhouses on the site first was approved in 1992, then modified and re-approved in Nov. 1995. If a building permit is not applied for by the end of Nov. 1997 the overseas owner will have to get formal approvals all over again.
The former cabinet & kitchen store at 3505 El Camino which was vacant for more than two years was occupied by a design group several months ago. The former photo shop at El Camino & Portage, which was empty for many months now is a Mac computer repair shop.
The vacancy rate along El Camino is at the lowest level it has been in decades. Excluding properties which have approved but unbuilt projects such as Rudolfo's and Co-opt gas, there are two vacant lots (3600 and 4100 blocks), one vacant building at 3585 El Camino which was forced to close in 1993, due to the zone change and amortization, the Cameo Club property, and two vacant stores in the 3900 block between Ventura & Curtner. That is a vacancy rate of less than 3%.
The proposed replacement of All American Market by Blockbuster Video has been mentioned in the press for several months. We have no further information on this.
Construction of oversized and overbearing houses continues throughout Barron Park, and all over Palo Alto. The City Council still has not acted on the poll which was taken among BPA members, and the resulting request for neighborhood compatibility standards which the Barron Park Association presented to the City Council last December. Perhaps candidates for City Council need reminders on the importance of this subject.
The new comprehensive plan is scheduled for City Council hearings starting Sept. 23, with public hearings Sept. 29 & 30.

by Bob Moss
This winter may provide a serious test of the new flood control project. Weather forecasts predict much higher than usual rainfall, and worse storms and flooding than that which occurred in 1983 when Barron Park experienced severe flooding. At that time both Barron and Matadero creeks overflowed, causing more then $125,000 in damages. Water was from 6" to 3 feet deep in various locations. Flooding was reported in 90 homes and 130 garages, but the actual number affected probably was greater.
In order to minimize flooding potential, the Barron Park Association once again is sponsoring a cleanout of Barron Creek to remove trash, debris, and excess vegetation which might wash downstream and block the trash rack at Laguna Ave. We have not done this for several years, so there is an accumulation which needs attention.
The cleanout will be on Sunday, Sept. 28, from 1:00 to 5:00 PM. Meet at Los Robles and Cerrito and bring tools, wheelbarrows, machetes, axes, saws, and rope to haul out heavy objects. Wear long sleeves and pants, old clothes and shoes suitable for wading in the creek. If at least 12 or 15 people show up we can finish the entire creek in 3 or 4 hours.
Property owners will be asked to sign permission slips, and to participate in the cleanout. We will not work in areas where permission is not granted. This creek is not maintained by the Water District because they never obtained easements or permissions from the property owners for creek cleaning.
You don't have to live by the creek to participate in the cleanout. In fact, many of the properties which flooded in 1983 were away from the creek on streets such as La Para, La Donna and Kendall.

by Douglas Graham, Barron Park Historian
Have you ever wondered what it might have been like to live in Barron Park in the 1920s and 30s? This month we will cover some topics never mentioned in the newsletter before.
"THE PIT"
In the Palo Alto Historical Association files there is a clipping from 1926 telling of a protest by residents of the Maybell tract area concerning the State's action in digging a "borrow pit" to obtain fill for the new Bayshore Highway, the precursor of the present 101 freeway.
The BPA considers this to be the beginning of Barron Park neighborhood activism. The neighbors may have lost their battle, because "the pit" was a prominent feature until the 1950s.
Several long-time residents here told me it was located south of the cul-de-sac ends of Laguna Way and Manzana Lane, between the Maybell tract and the upper Los Robles neighborhoods.
About ten years ago, I ordered a copy of a 1941 aerial photograph of Barron Park, from the national archives. This past year, while studying it to answer a question on a different topic, in one of those "ah-ha" moments, I suddenly perceived "the pit." It occupied approximately three acres, the entire block of land that includes all of the lots of present-day Maybell Court and the cul-de-sac end of Georgia Avenue near where it intersects with Donald. Judging by the shadows, it must have been at least ten, and perhaps 15 to 20, feet deep.
Just recently, John Erickson made available to me, for copying, another aerial photo from the late 1950s. It clearly shows the pit being filled in with truck ramps and expanding "tons" of fill. If anyone can tell me more about "the pit," please drop me a line.
BUENA VISTA AUTO CAMP
The next topic is the Buena Vista Auto Camp (now the Buena Vista Mobile Home Park) and its associated businesses.
Many people don't realize that the mobile home park, All American Market, and the Texaco station all share one long, individual parcel. This was one of the first parcels split off from the Barron Estate after it was sold to Driscoll and Reiter in 1919. The first business on the site was a "tourist camp" under the then-existing huge oak trees that nearly covered the land . Later on a motel was built (part of which still exists, I am told) and a restaurant and gas station. Note that it was a Beacon station, then it was Texaco in the 1950s before Chevron took it over, and now it is Texaco again.
The Weller family bought this property from Driscoll & Reiter in the early 1920s, and held it until sale to the present owner, Mr. Jisser, in the 1980s. They built a restaurant on the highway where the All American is today, the Chat and Chew (see photograph). According to my neighbor, Nick Babick, it was a great place to have lunch.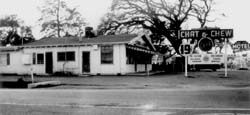 Chat & Chew Restaurant on the site of the All American Market, some time in the 1930s.
El Camino Real was the state highway in those days, and motels, auto camps, roadside restaurants and bars proliferated along our strip.
AWAY FROM THE HIGHWAY

Away from the highway life was quiet in our neighborhood. Many acres had undergone division into two- or three-acre orchard lots, on which the new owners usually built houses. The entire Maybell tract from El Camino Real to the present Donald Avenue was divided, as well as the El Centro and Laguna Avenue neighborhoods.
Colonel Jones of the California Military Academy owned the land along El Camino from Matadero to the Buena Vista tourist camp. In October 1926 he laid out a subdivision of tiny residential lots along La Selva and Barron Avenues, and very small commercial lots along El Camino Real, calling it "Barron Park."
Further south on El Camino, Janet Thain, a beloved Mayfield school teacher, lived in the frame house on El Camino that was demolished just last month.
You can perhaps get a sense for the bucolic quiet that characterized Barron Park in the 1920s by studying Elsa Preminger's 1926 photo of the orchards on upper Matadero Avenue, with Coyote Hill showing in the background.
Future articles will continue to explore Barron Park life in the 1920s, 30s, 40s and 50s. If you have stories to tell or old photos, clippings or leaflets to share, please contact me. Write to Douglas L. Graham, 984 Ilima Way, or e-mail me at dvgraham@aol.com

Be Careful!
"??Where does the time go??" to coin a phrase. It seems I was just waxing poetic over the approaching spring --and lo! We are already seeing count-downs in the ads for the soon-to-be-here Winter Holidays. But don't despair. We still have many days of our wonderful Palo Alto "Indian Summer" to enjoy --

Still plenty of time to take care of those pre-rain precautions -- i.e., have the furnace checked, and have the roof inspected. The proverbial ounce of prevention. I urge you to not neglect these two chores -- we're told the winter will be a doozy --but a word of caution: be wary of the phone solicitors. While I'm fairly sure most are legitimate, unfortunately some are not. Better to call someone listed in the yellow pages, with a licensee number in the ad --if roofing work is recommended, ask for references and follow up with a phone call to the Better Business Bureau, or the Chamber of Commerce.

Sad to say, we Seniors are prime targets, so do be alert!! The following is "borrowed" from the SCC September Senior News:
Tips for Spotting a Scam --Older Adults are Often Targets
You should be suspicious if:
A company has a name that sounds like a government agency or well-known company.
The caller insists that you must act on the offer the same day.
A caller asks for your bank account, credit or calling card number as identification. Never give them out.
Someone claims you've won a prize, but you haven't entered a contest.
You must pay a fee before you receive complimentary goods or services.
Scams are becoming more and more prevalent. Be careful, be suspicious, and be safe.

--Source AT&T Corp.

'Till next time --Katie

by Will Beckett
I know many of you hate it when you go outside to enjoy the outdoors and all of a sudden the sound of song birds is replaced by a very loud gas engine, usually on a leaf blower. For years, the City and many of its appointed committees, have been looking for ways to eliminate this curse on man.
The Evergreen Park Neighborhood Association has distributed a letter asking for support to ban leaf blowers. Not just for the noise pollution but the pollution generated by the motor and the dust raised by the blowing action. It is especially important to know that you should never use a leaf blower in the street. There are very harmful materials that come from cars that when airborne, can get into your lungs and be very damaging. I recently watched a gardener blowing leaves, from the yard he was working on, into the neighboring yard. I find this not only silly but rude. Besides, the neighbor's gardener will blow it all right back. What a waste!
Leaf blowers have no value to our society and should not be used. I personally would be willing to support the Evergreen Park Neighborhood Association, but I think there is also a more direct approach that we could use in Barron Park: ask gardeners not to use leaf blowers. Many gardeners will listen to your request and will use a rake instead.
It may look a little more cluttered but it would look that way after the first few days anyway. I am hoping to generate a list of all gardeners who are willing to stop using leaf blowers, and who will inform their customers about the disadvantages/dangers. If you have (or you are) a gardener who will agree to stop using his leaf blower, send me their/your name and phone number and I will make sure it is published in our local papers, as well as the winter edition of this newsletter. This applies to ALL Palo Alto gardeners, not just those in Barron Park. Thanks, Will Beckett. Phone: 494-6922. E-mail

Dear Editor,
This is to let you know that, even though I am going to be living in Pennsylvania for a few years, I will be continuing to supply the BPA newsletter with articles on Barron Park history.

I will continue to work on the book-length history, tentatively titled "A Sense of Place." My team includes a professional editor, a copy editor and a professional publisher. The tentative date for publication remains the end of 1998. After the book is written, I will send my history scrapbooks back to Palo Alto so that they will be available again for May Fetes, etc.

To make this possible, I will be moving my history materials East this month with the main shipment of my personal household goods. My family will continue to live in our house in Barron Park and I will be returning here for my retirement.

My new home will be in the Pocono Mountains of Pennsylvania just off I-80, about two hours west of Manhattan Island. You can visit me by going up to San Francisco, getting on the Bay Bridge, and staying on I-80 until you get off at the Tannersville, Pennsylvania exit. In the next newsletter I'll be able to include my new address. Meanwhile, readers interested in Barron Park history can still contact me via 984 Ilima Way, or by e-mail.

-- Doug Graham,
Barron Park Historian

Dave Chalton, our former membership chair, left us an excellent FileMaker Pro database which tracks our yearly membership and gives us comparative figures for the past 10 years.

This year I managed it, but I'm really too busy to continue. I'm willing to train the right computer-savvy volunteer. All records must be kept strictly confidential! Please email Nancy (editor) if you want to help.

Also, my back yells at me whenever I have to deliver newsletters from the printer to the post office. Any volunteers? Please?

We also need Business Relations and Welcoming Committee Co-chairs, as well as work on many other committees.

Please call Will Beckett 494-6922 if you have some time and an interest in the above.

© 1997 The Barron Park Association. All rights reserved.
This page (September Edition) was created by Cyberstars.com in November 1997.
The paper edition was mailed to BPA members in September 1997.
URL this page: http://www2.bpaonline.org/BP-News/1997-fall/
e-mail the editor: Nancy Jo Hamiltion
Return to BPA Newsletters Index Page

Return to BPA Home Page

Return to Cyberstars' home page